Happy Last Days Of Summer! We are David and Sheri Burns from Long Lane Honey Bee
Farms and honeybeesonline.com. It's finally almost here. Fall will arrive on September 22nd, 2018. Four days away. Are your bees ready? Our lane is lined on both sides with an abundance of goldenrod. And yes my hives smell weird! Nectar produced by fall asters make hives take on a funky smell. Don't panic and jump to the conclusion that you have the dreaded, smelly American foulbrood disease. Probably just a fall crop of goldenrod.
Watch my new YouTube video as I explain the importance of understanding that beekeeping is: Art, Science and Love
Beekeeping - ART, SCIENCE and LOVE
David Burns, Certified Master Beekeeper Just Invented the Frame Prop.
Click Now To Order Yours. $15 With Free Shipping
Contentious & Argumentative Beekeeping
David and Jon will be producing their live beekeeping podcast, HiveTalk, this Thursday at 1:30 central time. Please call in with your questions. Here's how:
Join online
Or Dial in using your phone: Call: 605 - 562 - 0444
Enter the Show ID: 129777 #
During the show, press 2 on your phone to "raise your hand" and let the David and Jon know you would like to
ask a question on the air. They will unmute you in order for you to speak. Call in during the live show and you may be selected to be on the air with Jon and David.
This week's topic is contentious and argumentative topics beekeepers fuss about. David and Jon have the "right" answers.
Freedom Kit with bees
is our kit for the serious beekeeper...
Read more
How Many Hives Should You Start With?
The average backyard hobbyist should always start with 2 or more. Why? With two hives, you can compare...
Read More
How Close To The House Can I Put My Hives?
This and 18 other questions are answered here...
Read more
It Will Soon Turn Cold Outside. Are Your Bees Ready?
Our Winter Bee Kinds Can Make A Huge Difference
Don't delay ordering your Winter-Bee-Kind. Now that fall is only a few days away, make sure your bees have adequate food for winter by placing our Winter Bee Kind on your hive if for no other reason than insurance that they won't starve! Available for 10 frame, and 8 frame hives.
Top 20 Questions Beekeepers Ask In The Fall
Beekeeping sounds and seems easy until you start. Then there are a thousand questions. And there are so many different opinions and answers. Which one is best for my bees?
Sign up now for BeeTeam6 Beekeeping Coaching Program because over the next several weeks David will be answering the top 20 questions beekeepers have in the fall. Sign up in September and receive a free winter-bee-kind on your December anniversary. Free shipping too.
Click here to sign up for BeeTeam 6 now.
In the last BeeTeam6 teaching video, David explained to subscribers how to evaluate frames in the fall to help determine if a colony has 40,000 future bees of winter physiology needed to carry the hive through winter. Remember, all the bees you are seeing now as adults will only live until Thanksgiving. They are mostly summer bees which die in 45 days. Bees of winter physiology live 4-6 months. Are you missing the steps needed to raise winter bees?
Here are several ways to get caught up to speed on "Getting Your Bees Through The Winter".
Online Course - Learn how to get your bees through the winter with David's new online course, from the comfort of your home. Watch the video lessons when you want. Comes with one Free month of coach with David.
Click here for more info
"Getting Your Bees Through The Winter" - David's eBook on Amazon.
Click here now.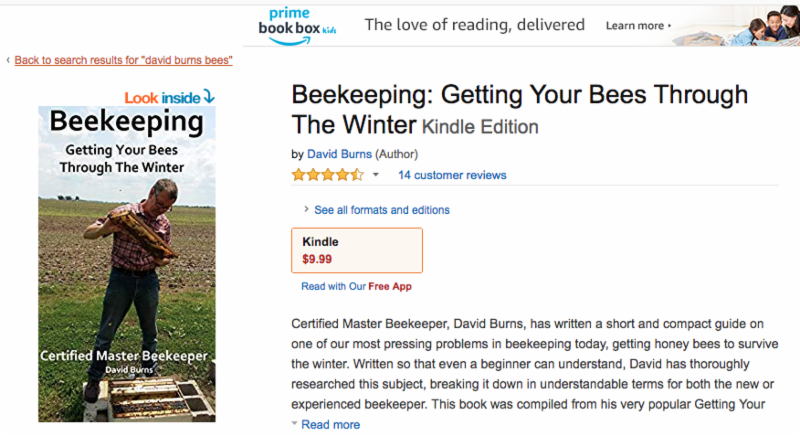 Fall Tips
David has an entire article dedicated to explain bees in the fall. One thing David writes about is mites. Mites are shifting from drones to workers and increasing in number, spreading viruses in your colony in the fall. If you think you do not have varroa mites, you are wrong. All colonies have mites. In our winter classes we actually teach you how to test for mites and calculate your hive's percentage of infestation. Do not think you do not have mites simply because you do not see any. You have them! Get rid of them. Mites prefer drones, but now that drones are being killed, mites are now parasitizing your worker brood--soon to be your winter bees. And when mites have viruses, they spread them to worker bees which shortens the life of that winter bee from 6-9 months to 3-4.5 months. That means a bee born in October will live until May or June without viruses spread by mites. But, if a winter bee has a virus it will only live to January or February. Sound familiar? If you do nothing to get rid of mites then your hive will probably not make it to see March or April
...READ MORE
I'm glad you are keeping bees or thinking about it. Thank you for supporting our family business for all your beekeeping needs.

Sincerely,
David and Sheri BurnsLong Lane Honey Bee Farms
217-427-2678
New Fall Hours:
Monday Closed
Tuesday 10am - 4:30
Wednesday 10a- 4:30
Thursday 10am - 4:30
Friday Closed
Saturday - Our store is open by appointment only